[split]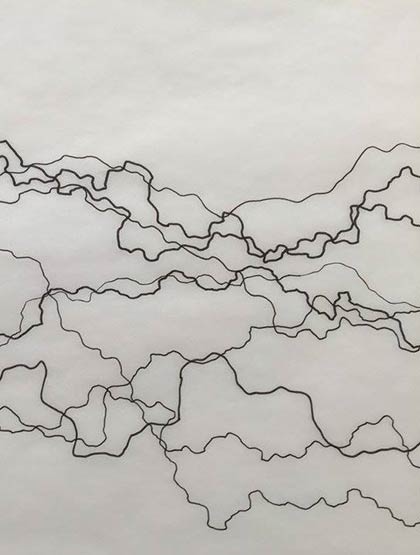 Dates: June 1 – July 6, 2017
Open Hours (email to confirm): Wednesday-Sunday: 10:00am-2:00pm
First Thursday Art Walk & Opening Reception:  June 1, 6:00-10:00pm
Art Walk: Thursday, July 6, 6:00-10:00pm
Closing Reception: Tuesday, July 11, 6:00-10:00pm, Artist Talk at 8pm
At Ramon's Tailor
Artist Amy Tavern will be in residence at Ramon's Tailor for six weeks, transcribing her time here by way of daily walks and drawing.
Each morning Amy will walk in the Tenderloin as well as adjacent neighborhoods like Nob Hill and the Fillmore. After each excursion, she will translate the memory of her paths and what she sees and feels through drawing. Over the course of her residency, she plans to walk every surrounding street and create a large-scale drawing that fills our main exhibit space. The project's title, Point Three Five, is a reference to the approximate size of the Tenderloin in square miles.
About the Artist
Amy Tavern's work is based on memory and, although autobiographical, refers to shared experience and universal themes. Through the creation of objects and spaces, Amy strives to make the fleeting more permanent, preserving her memories and connecting with her audience. She has exhibited nationally and internationally with solo shows in the US, Belgium, Sweden, and Iceland. Her work as a metalsmith has been included in numerous publications, most notably, the cover of Metalsmith Magazine. Amy recently completed an MFA in sculpture, installation, and interdisciplinary art at California College of the Arts.